This is a guest post by Jennifer Wright, publisher and editor of Stylishly Social, a women's lifestyle blog for stylish moms. Jennifer is a married mom of two and lives in San Diego, CA.
There are so many health-related decisions to make on a daily basis as a parent. What do I pack them for lunch? What vitamins should my kids be taking? What products are safe to put on their skin? It can get overwhelming trying to choose from the multitude of products on the market for children right now. 
Choosing grooming products for your children is often a process of trial and error. However, it can be made very simple with this quick cheat sheet of brands that are child-friendly and mom-approved! I've personally used all of them in my own household and highly recommend them to any parent. Read on to find out more about my 5 fave grooming brands for children.
1. The Honest Company
We might as well start with an obvious choice. You've probably heard of The Honest Company and that's because moms and dads LOVE their products. The Honest Company offers products that are safe, eco-friendly, effective and above all, affordable. Some of the faves in our household from The Honest Company are their Mineral Sunscreen and their Hand Sanitizer Spray. They have a full line of products though, ranging from diapering and feeding to cleaning products, vitamins and more.
https://www.honest.com/
2. So Cozy
Having a toddler with long curly hair can prove challenging for any parent. It can be tough to find great hair products that are effective at detangling but also gentle and tear-free. SoCozy founder Cozy Friedman opened her first Cozy's Cuts for Kids salon in New York in 1994 and has opened many others since. She used her expertise with children's hair to create SoCozy Professional Hair Care for Children. SoCozy is the first ever professional line of hair care products made with the finest ingredients gentle enough for kids. Their product line includes products for curly hair, swimming, styling, lice prevention and much more.
http://socozy.com/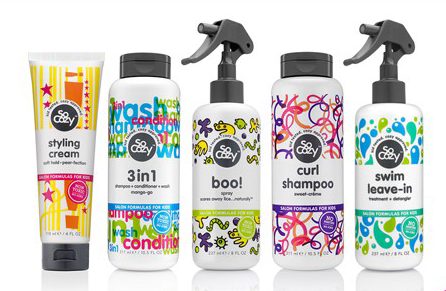 3. The Wet Brush
Ok, this brand has pretty much been life changing. My aforementioned 3-year old daughter has a beautiful head of fine curly blonde hair and has already learned to hate having her hair brushed. I have tried several different brushes over the years and finally found the perfect solution with The Wet Brush. It glides through her hair effortlessly whether wet or dry and she doesn't run away from the brush anymore! I found ours at Target, but they also carry them at Kohls, Amazon and many other retailers. Now I buy them for myself too!
http://www.thewetbrush.com/
4. Babyganics
My family first fell in love with Babyganics when I bought their Chamomile Verbena Bubble Bath on Amazon. It was affordable and safe for my baby and we all loved it. Babyganics carries a great line of products geared towards the tiniest members of your family, but that can still be used by everyone. All of their products are extensively tested to ensure they don't irritate skin or eyes. From laundry detergent to hand soap and diaper rash cream, Babyganics can provide you with the peace of mind that you are using the safest of products for your baby and your entire family.
http://babyganics.com/
5. Hello Toothpaste
I never thought I would see my kids so excited about brushing their teeth as they were when I opened up a box of Hello Toothpastes samples I had just gotten. We tried tubes of Blue Raspberry, Bubble Gum and Watermelon toothpaste and they went bonkers over them. I think my daughter voluntarily brushed her teeth 5 times in one day, I'm not even kidding! With attractive bright-colored packaging and yummy flavors, Hello toothpaste is definitely fun for kids. Parents will appreciate that their toothpastes contain no artificial sweeteners, no artificial flavors, no dyes, no preservatives and no microbeads. Win win! They have fluoridated and non-fluoride options and also make adult toothpastes, breath spray and toothbrushes. http://www.hello-products.com/
I'd love to hear about any grooming products for kids that your family loves! You can find me on Twitter, Instagram, Facebook or of course on my blog, Stylishly Social!
Leave a comment
Comments will be approved before showing up.